Thiam Peng Trading has its humble beginnings in a small trading shop in Defu Lane 10, as a purveyor of wood materials and laminates surfaces to the furniture and build industry. Founded by Mr Koh Boon Thiam in 1978, the company remains a recognised name within the industry and trusted by its clients.
In the early 60s, Mr Koh started as a salesman selling plywood from a shop in Defu lane earning a meagre $3 for a day's work. That was his first step into the world of timber manufacturing. Then luck struck and he was presented with an opportunity to take over his employer's business. Together with a group of friends, Koh jumped into his new calling as a business owner. He formed Thiam Peng Trading - "Thiam" being part of his name while "Peng" is the name of his partner. During that time, the company operated with only one truck for delivery transportation.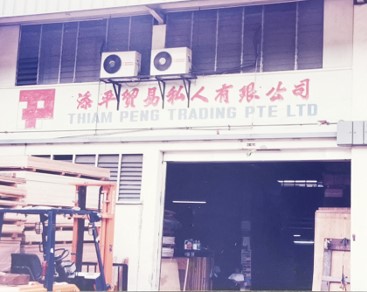 From day one, Mr Koh had one business philosophy. Trust was the key to success and he walked the talk with steely perseverance. Along with this belief came a solid reputation for honesty and integrity, and soon Thiam Peng flourished.
When his partner left, Koh was left running the business alone. As a leader, he led by example inspiring a loyal team of workers, many of whom have served the company for over 30 years with some still serving today. Family members have also joined the company forming insurmountable pillars of strength.
Success to Koh, is not a destination but a journey, in which he paved the way with every client's satisfaction.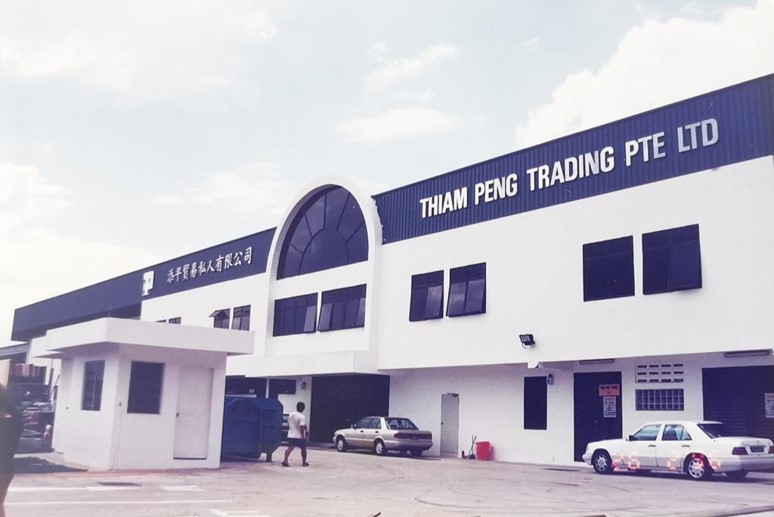 In 2007, Koh made a pivotal and game-changing decision. He moved the company's business to a bigger factory and warehouse to expand and grow the business. He had only one goal in mind – to transform Thiam Peng into a successful business.
New systems were implemented and critical steps were taken to ensure consistency in the quality of the products. He knew that to bring the business into the big league, he needed to continuously upgrade the production facility. In his true entrepreneur spirit, he invested in a second factory, a 4800sq meter modern production facility in Sungei Kadut Way.
Growing up, Annie Koh remembers helping out her father in the factory during the school holidays.
Employees, clients, suppliers and family members have witnessed the young Koh's early days in the factory and around the warehouse. With a trusted entourage by her side and Koh's fatherly guidance, the young Koh was groomed to helm Thiam Peng. At 24 years old and fresh out of school, she joined Thiam Peng, taking a six year break in between to hone her business acumen and "see the world". She rejoined the company in 2011 as its Executive Director.
With a clear vision, Annie steered Thiam Peng into the next chapter and set about re-engineering the business with improved technology and product expertise. In her father's stead, she recognised the need to constantly stay up-to-date with clients' expectations and fresh perspectives on wood as a building material.
Under her leadership, she founded Neupanel in 2018 as Thiam Peng's subsidiary to capture the residential and commercial markets.
2021 is another milestone for Thiam Peng when Annie invested in Research and Development, and new machines to scale up product manufacturing and bring Thiam Peng to greater heights.
"My focus is to grow the business with a fresh perspective. I would like to contribute to its success as we cater to emerging markets and different demographics," she says.
Like her father, she will continue to gain more clients' loyalty with trust, honesty and integrity.
Thiam Peng has since evolved since its humble beginning in 1978. It now specialises in a wide range of innovative wood materials and laminates surfaces that is entrenched in solid craftsmanship and steeped in style. Production is carried out in a modern factory and high-end technology and stringent quality control measures ensure that the exacting standard, that is synonymous with the Thiam Peng brand, is consistently achieved.
EXCELLENCE
Committed to deliver only the best and perform to our best

TRUST
Cultivate long and meaningful relationship based on trust and reliability among our clients and associates 

INTEGRITY
Promote and inculcate the importance of honesty and responsibilities 

INNOVATIVE
Constantly searching for new, better value products and ideas 

OPENNESS
Eager to share our knowledge and expertise with all